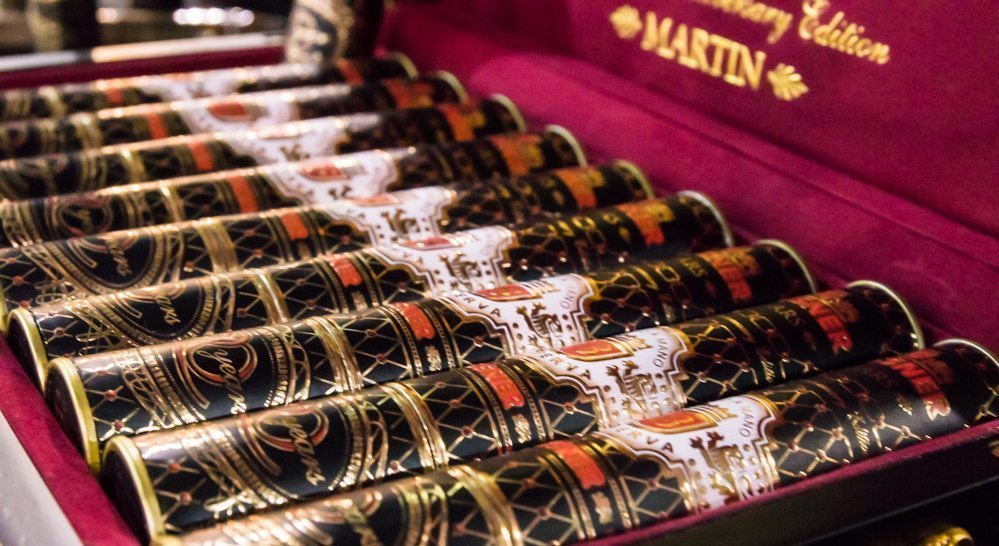 Vital Stats:
Vitola: Double Toro
Length: 6.5″
Ring Gauge: 56
Country of Origin: Nicaragua
Wrapper: Ecuadorian Habano
Binder: Nicaragua
Filler: Nicaragua
Factory: Nicaragua
Number of reviewers: 5 —– Will (Dubv23) Sandeep (Djangos) Emmett (rhetorik) Nicholas (volpow61) Jason (bigslowrock)
Price: Unknown
Contributed by: Bossner Cigars
This cigar was reviewed blind (no bands) by a panel of at least 4 reviewers. They did not know what they were smoking beforehand. The scores are an average of all the reviewers' scores with outliers removed. All of our cigars reviewed are shipped to the panelists with Boveda packs to ensure optimal smoking experience.
Prologue
We had not heard of Bossner Cigar until finding their elaborate booth at IPCPR 2013. This German company makes everything from Cognac to Cigars to Candy. We posted a picture after the show of their cigar tubes that are some of the most intricate and detailed we have ever seen. This was the first time Bossner had made it to the United States, and as of now, they are not yet available to purchase here, but at the show they told us one of their goals was to find a US distributor so perhaps in the near future you will see a Bossner cigar at your local shop. You can check out their website here and take a look at some of their offerings.
Initial Impressions
Appearance: 90
"Interesting looking stick with a very nice looking dark brown wrapper. From a fuse type cap down to the shaggy foot on the stick." –Nicholas (volpow61)
Aroma: 92
"Very nice aroma, consisting of leather and fresh tobacco." –Emmett (rhetorik)
Construction: 89
"Construction seems pretty solid besides the weird oval shape at the foot, no soft or hard spots and almost invisible seams." –Emmett (rhetorik)
First Third
Flavor: 90
Strength: Medium-Strong
Body/Complexity: Medium
"The cigar opened with a complex array of flavors. A very complex spice that was a mixture of cinnamon and pepper was most noticeable. There was an underlying leather profile that meshed nicely with a cedar component that came and went every now and then." –Will (Dubv23)
"The draw is very open, even with the closed foot. Pre-light draw tastes of leather and tobacco. After lighting, the cigar opens with not much kick in terms of spice, but offers a nice balance between leather and wood. Very typical natural cigar flavors. I'm quite impressed with the amount of smoke volume this thing is putting out. The only downside so far is a slightly musty finish. Towards the end of this third, it takes a turn towards sour, I'm hoping the next third does not continue this trend. The burn is a bit wavy, but hasn't needed a touch-up yet." –Emmett (rhetorik)
Second Third
Flavor: 88
Strength: Medium
Body/Complexity: Medium-Full
"The sweet flavors persist throughout the second third as well. The predominant are of coffee and chocolate. . Some woodsy flavors are becoming more prominent now and there is also a toasty quality at this time. The burn is still very good and the ash is holding about one inch before falling off." –Sandeep (Djangos)


"The cigar transitions into a stronger woody flavor. Almost reminds me of a smoker with oak and just a couple slivers of mesquite. I'm also picking up notes of baking spice and still treated to light blasts of pepper." –Jason (bigslowrock)
Final Third
Flavor: 88
Strength: Medium
Body/Complexity: Medium
"The only word I can come up with to describe the conclusion of this cigar was "meh". The bitterness was barely noticeable but was there. There was still a leather and wood component that never switched up but there was a flavor that I could only attribute to soap. Not clean, not fun and not pleasant. The retrohale was very decent though showing a earthy and floral tone." –Will (Dubv23)
"If it hadn't been for being an official review, I probably would not have made it this far. The cigar has gotten pretty hot and bitter, and the whole thing has taken on a kind of spongy feel. There are still some woody and leathery flavors in there somewhere but for the most part they are covered up by the charred and bitter tastes." –Emmett (rhetorik)
"The cigar complexity has left. I'm just getting leather and wood aromas. Pretty one note." –Jason (bigslowrock)
Overall Impressions
Draw: 89
"Draw was nice and free but did not produce nearly as much smoke as the size of the cigar and lack of resistance would lead one to believe it should." –Will (Dubv23)
Burn: 90
"Incredible smoke output. Terrible ash retention. The burn was a bit wavey but self correcting in that it didn't require a touch up."-Jason (bigslowrock)
Overall Strength: Medium-Strong
Overall Body/Complexity: Medium-Full
Overall Experience: 87
"I was not thrilled with the outcome of this cigar. It really showed some promise and character before lighting up and the first third really was great but it was all downhill with tons of unpleasant flavors and qualities. The construction was sub par and the burn wasn't great either. This may need some downtime to rest a little and then it could possibly develop into something nice but right now I will not be looking for more of these." –Will (Dubv23)
"This was a very good overall cigar that fits well in my profile. The predominant flavors are that of sweet spices and woodsy notes. Some leather and tobacco also form a part of the mix. The burn and smoke are an added bonus. I would definitely try this one again." –Sandeep (Djangos)
"This cigar started out ok with some pleasant, if basic, mild flavors, but it just went downhill from there. Between turning hot and bitter at the end, the loose draw, and the wavy burn, it was just not an enjoyable experience. The wrapper did not seem to be a very high quality leaf from my experience and the tobaccos were just not flavorful enough in the blend to make it interesting. Sadly, I could not recommend this cigar unless my sample turned out to be a fluke. I'm curious to see how the other panelists rate this one." –Emmett (rhetorik)
"Overall this was a decent smoke had some nice flavors throughout the cigar. Kept me interested and pretty content the whole way through. There were just a few points where there was a certain tartness and bitterness which is what keeps me from giving this cigar a much better rating. Maybe with time it might smooth out this stick a bit." –Nicholas (volpow61)
"It wasn't a bad cigar. Nothing really separates it from the pack. I don't think I'll be chasing it down, but I enjoyed it." –Jason (bigslowrock)
Smoking Time (in minutes): 107
Total Score: 89 (Good)
Edit

| Reviewer | Appearance | Aroma | Construction | First Third | Second Third | Final Third | Draw | Burn | Overall |
| --- | --- | --- | --- | --- | --- | --- | --- | --- | --- |
| Will | 92 | 94 | 87 | 93 | 89 | 86 | 88 | 85 | 83 |
| Sandeep | 90 | 91 | 90 | 90 | 90 | 90 | 92 | 90 | 91 |
| Emmett | 89 | 93 | 91 | 88 | 86 | 83 | 87 | 87 | 84 |
| Nicholas | 88 | 87 | 88 | 89 | 87 | 85 | 88 | 90 | 84 |
| Jason | 95 | 90 | 97 | 92 | 93 | 89 | 94 | 92 | 91 |
| Overall | 90 | 92 | 89 | 90 | 88 | 88 | 89 | 90 | 87 |
To view the complete scores and notes, click here
Blind Cigar Review: Bossner | Martin (20th Anniversary)