Cigar Info
While the Montecristo brand is celebrating its 80th anniversary, another iconic brand is also celebrating the same milestone. This year Dunhill Cigars is commemorating the 80th anniversary of the Don Candido line – the first line exclusively made for Dunhill. Just prior to the 2015 IPCPR Trade Show, Dunhill Cigars announced the Dunhill Signed Range Selección Suprema cigar to commemorate this milestone. The cigar was showcased at the 2015 IPCPR Trade Show.
This cigar was reviewed blind (no bands) by a panel of at least 4 reviewers. They did not know what they were smoking beforehand. The scores are an average of all the reviewers' scores with outliers removed. All of our cigars reviewed are shipped to the panelists with Boveda packs to ensure optimal smoking experience.
In a press release, Steven Kron, regional account manager of Dunhill Cigars said, "Don Candido was the first cigar ever manufactured solely for Dunhill, thus beginning the brand's legacy of exclusivity. It is with great pride that we debut Selección Suprema, a cigar that honors Dunhill Cigars' commitment to bringing the very finest handmade cigars to connoisseurs throughout the world."
The Dunhill Signed Range Selección Suprema is a limited production cigar described as the brand's most exclusive to date. It features a blend consisting of a Jalapa Shade wrapper, Connecticut Broadleaf binder, and fillers from Jalapa, Esteli, and Brazilian Mata Fina. The cigar is being made in one size – a 6 x 50 Toro packaged in 8 count boxes. Each cigar will have a suggested retail price of $20.00.
Vital Stats: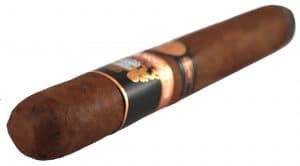 Vitola: Toro
Length: 6″
Ring Gauge: 50
Country of Origin: Undisclosed
Wrapper: Nicaragua
Binder: Connecticut Broadleaf
Filler: Nicaraguan and Brazilian Mata Fina
Factory:  Jhonys Diaz and General Cigar Blending Team
Blender: General Cigar Dominicana
Number of reviewers: 5—–Jeff (ExpendableYouth) Craig (WyldKnyght) Steve (ThaGreatWazoo) Sandeep (Djangos) Jessica (Cigar Ninja)
Price: $20.00
Age: 2 Months
Release Date: October 2015
Contributed by: General Cigar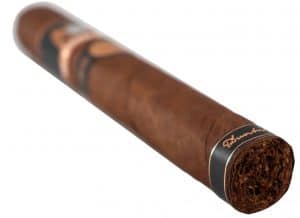 Initial Impressions
Appearance: 91
"Good looking cigar, Toro sized with a medium chocolate wrapper. The surface is slightly bumpy with some veins visible but not overtly prominent. There are at least two well applied caps present. No issues with the wrapper and no discolorations. The cigar is firm to the touch almost the entire length." –Sandeep (Djangos)
Aroma: 89
"Caramel toffee like notes, but the top note is almost all tobacco." –Jessica (Cigar Ninja)
First Third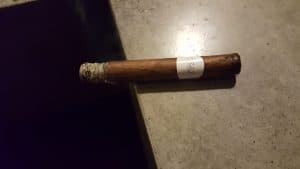 Flavor: 89
Strength: Medium-Strong
Body/Complexity: Medium-Full
"My initial impressions are of black pepper, woodiness and some baking spice. The retrohale has a clean mineral flavor. The cigar has a really nice smoke output, and a perfect level of resistance. The flavor profile has remained consistent throughout the remainder of the first third." –Jeff (ExpendableYouth)
"The initial third starts off with some pepper, hay and grassy flavors. The pepper increases in intensity as the third progresses. The flavors also increase in intensity. Towards the end of the third it develops a slight leather flavor. No issues with the burn or the draw. The ash holds well for about an inch. The smoke is creamy and voluminous. Overall, quite a good start." –Sandeep (Djangos)
Second Third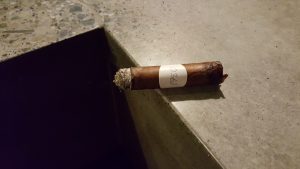 Flavor: 88
Strength: Medium
Body/Complexity: Medium
"During the second third, the earthy flavors continued, the pepper mellowed and the mustiness all but disappeared. The smoke felt almost like an oily film in my mouth." –Craig (WyldKnyght)
"The flavors are more of the same in the second third with a bit of spice coming through, but mainly on the retrohale. In this third, it's also required a touch-up and a relight but really the flavor is pretty straightforward without much complexity to it." –Jessica (Cigar Ninja)
Final Third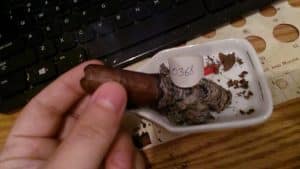 Flavor: 88
Strength: Medium-Strong
Body/Complexity: Medium
"The final third stays with the leather. The heat and bitterness begins to pick up quickly. The retrohale is gone and should not be attempted. Finishes nicely, but lacks the initial full flavors." –Steve (ThaGreatWazoo)
"This final third was a little confusing but pleasant none the less. The pepper picks up from the end of the middle third and increases in intensity. At the same time, the sawdust and a slight bitterness make an appearance. Even though not too detracting, I feel that the cigar may improve with some rest in the humidor. Towards the end, the pepper increases to a crescendo.The bitterness, luckily, is only present for about a half inch. No issues with the draw or the burn in this third either." –Sandeep (Djangos)
Overall Impressions
Draw: 85
"This was an issue for me throughout. The draw seemed very tight, but not plugged. Needed a lot of work and a lot of patience to keep going." –Steve (ThaGreatWazoo)
Burn: 89
"The burn was a little uneven from start to finish." –Craig (WyldKnyght)
Construction: 87
"The construction on the cigar was great and didn't have any issues with cracking, unraveling or tunneling." –Jeff (ExpendableYouth)
Overall Strength: Medium-Strong
Overall Body/Complexity: Medium-Full
Overall Experience: 88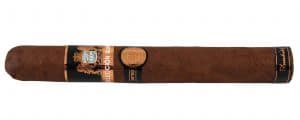 "This was a nice predictable smoke that, if appropriately priced, would be nice to mix up your daily rotation. I wouldn't go out of my way to find one, but I wouldn't turn one down either." –Jeff (ExpendableYouth)
"Overall, this cigar was good, but it was not great. I had some high hopes at first, but as it progressed it just kept going downhill. I'm not sure if I would revisit this cigar again or not." –Craig (WyldKnyght)
"This was a tricky cigar for me. It started strong with some nice flavors. During the second third, I got some real tasty hits with a super smooth finish. It ended hot and bitter. I wished it finished better, but with some age it might mellow and produce better. Get some of these. They are really good for an after dinner smoke." –Steve (ThaGreatWazoo)
"Overall, this was a very pleasant experience except for a slight muddling of flavors in the final third. There was a good mix of flavors and transitions and there was also some bitterness in the final third that was slightly detracting. I think this needs some more rest time before the next try. Will definitely try again." –Sandeep (Djangos)
"It wasn't a terrible tasting cigar but it wasn't an overly enjoyable one either. Not much in the way of complexity or mind blowing flavor, but the flavor that it did have was good, just not great. This stick was plagued with burn issues and this is what leads me to rate it so low. Had I had a better sample to smoke, I think I'd have scored it as Good or Very Good." –Jessica (Cigar Ninja)
–
Smoking Time (in minutes): 74
Reviewer

Appearance

Aroma

1/3

2/3

3/3

Draw

Burn

Constr.

Overall
Experience

Jeff
ExpendableYouth)
88
88
88
88
88
90
88
90
88
Craig
WyldKnyght)
95
95
90
88
85
85
88
85
88
Steve
ThaGreatWazoo)
90
90
90
92
90
80
92
87
88
Sandeep
Djangos)
92
90
90
90
90
97
97
92
90
Jessica
Cigar Ninja)
88
88
88
88
88
85
78
80
83
To view the complete scores and notes, click here.
–
Blind Cigar Review: Dunhill | Signed Range Selección Suprema (Pre-release) – Blind Man's Puff
Blind Cigar Review: Dunhill | Signed Range Selección Suprema (Pre-release)