Vital Stats:
This cigar was reviewed blind (no bands) by a panel of at least 4 reviewers. They did not know what they were smoking beforehand. The scores are an average of all the reviewers' scores with outliers removed. All of our cigars reviewed are shipped to the panelists with Boveda packs to ensure optimal smoking experience.
Vitola: Lancero
Length: 7.5″
Ring Gauge: 40
Country of Origin: Nicaragua
Wrapper: Nicaraguan Habano
Binder: Nicaragua
Filler: Nicaragua
Factory: Undisclosed
Blender: Gary Griffith
Number of reviewers: 5—–Sandeep (Djangos) Gregg (McGreggor57) Dave (mdwest) Jason H. (Jokey Smurf) Jason (bigslowrock)
Price: $10.00
Age: 5 Months
Release Date: 2010
Contributed by: House of Emilio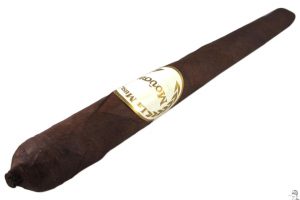 Initial Impressions
Appearance: 89
"An amazing looking dark lancero with a pigtail atop a neatly applied cap. The wrapper is a bit rustic looking with the visible seams in a nice parallel spiral." –Gregg (McGreggor57)
Aroma: 92
"The aroma is of coffee and chocolate with a cinnamon like flavor as well. The dry puff has some white pepper to it as well as some hay and grassy flavors. Overall, a very good beginning." –Sandeep (Djangos)
First Third
Flavor: 92
Strength: Medium
Body/Complexity: Medium-Full
"The cigar starts off mild with some hay and strong woodsy notes. There is a distinct cedar like flavor as well as an almond like nuttiness. There is not much pepper until about the half inch mark. Once the pepper appears, it ramps up quickly and left a spicy tingling on the tongue and the back of the throat. The pepper is strong for the next inch or so before settling down. There is definitely a bit of complexity to this one! The burn and draw are very good without any issues. The ash is light grey, flaky and holds less than an inch before falling off. The smoke is plenty and creamy in nature." –Sandeep (Djangos)
"The first puff is all cocoa and pepper, and I'm taken a little back by the really big flavor (in a good way). By the time I get close to the end of the first third, a little bit of leather starts to make its way into the profile." –Dave (mdwest)
Second Third
Flavor: 90
Strength: Medium
Body/Complexity: Medium-Full
"Dark roast coffee and allspice appear to be the main flavors of the second third. Most of the pepper is disappearing and a bit of cocoa helps smooth out the profile." –Gregg (McGreggor57)
"The second third of this cigar is continuing with the deep wrapper flavors of the first third. I'm a huge fan of espresso, and when it's coupled with sweetness I almost lose my mind…well…consider my mind lost! The pepper has faded again, but now there is a thick syrupy molasses note in the background that really has me thinking of my wife's chocolate chip cookies. The retrohale is really nice and smooth and is sneaking in those elusive baking spice notes. Also, the smoke is very nice and cool, with no harshness or unpleasantness at all." –Jason H. (Jokey Smurf)
Final Third
Flavor: 91
Strength: Medium
Body/Complexity: Medium
"The final third had the sweetness fading back along with the espresso. Mainly now there is a chewy leather and earth. It's almost gritty on my palate…not unpleasant, mind you, but a definite transition to something deep, dark and a little scary. If this cigar had started this way I would have ran for the pantry and got a sweet snack…there is a little nicotine hidden in these leaves that is just right for the tail end of an excellent smoke." –Jason H. (Jokey Smurf)
"Just as I was beginning to think all that was left was pepper, the cigar switches directions and delivers a very nice creaminess. Along with the creaminess, I'm getting wood and a light chocolate. The pepper still plays a roll in this third." –Jason (bigslowrock)
Overall Impressions
Draw: 95
"While small ring gauge cigars can often present draw problems, this stick did not suffer any draw issues at all. Excellent draw." –Dave (mdwest)
Burn: 93
"The burn was a bit wavy, which is no surprise considering the look. Smoke production was excellent. The ash retention was variable from 1/4 " to almost 2 inches." –Jason (bigslowrock)
Construction: 89
"The cigar seemed well constructed and firm to the touch the entire length. No soft spots are felt and no discolorations. There are three caps." –Sandeep (Djangos)
Overall Strength: Medium
Overall Body/Complexity: Medium-Full
Overall Experience: 91
"This was a pleasant and intriguing smoke given I don't usually like lanceros. I will definitely be looking to get a few of these." –Sandeep (Djangos)
"This was an OK cigar. The first third flavors were over shadowed by the pepper, but once that subsided, it was pretty good. The middle third offered the most interest and the flavors really started to develop. The final third, however, left me flat with its lack of dimension. I really felt this cigar had some great potential but never turned the corner." –Gregg (McGreggor57)
"I'm normally not a huge fan of lances or lonsdales and tend to gravitate toward smokes that require less management and attention, but this one I would certainly be willing to smoke again. An enjoyable experience." –Dave (mdwest)
"This cigar was a performer…looks, burn, draw and flavor…all top notch in my book. I could easily see myself paying in excess of $10 for these…a little speedy for everyday, but just right for a top notch smoke. Highly recommended for Lancero fans who like some flavor and enough strength to let you know it's there…where can I get a box…or at least a fiver!?" –Jason H. (Jokey Smurf)
"I enjoyed this cigar and would smoke some more. I thought about half way through that it would be just an average pepper bomb, but it surprised me with the left turn in the final third. If you are a fan of the lancero and like a little kick, this is another lance that I would put in the rotation" –Jason (bigslowrock)
Smoking Time (in minutes): 73
Total Score: 91 (Very Good)
Edit

| Reviewer | Appea-rance | Aroma | 1/3 | 2/3 | 3/3 | Draw | Burn | Constr. | Overall |
| --- | --- | --- | --- | --- | --- | --- | --- | --- | --- |
| Sandeep | 88 | 92 | 92 | 90 | 90 | 97 | 93 | 90 | 90 |
| Gregg | 92 | 90 | 88 | 90 | 88 | 88 | 90 | 88 | 88 |
| Dave | 88 | 92 | 90 | 90 | 90 | 93 | 93 | 88 | 90 |
| Jason H. | 95 | 97 | 92 | 95 | 92 | 97 | 97 | 95 | 95 |
| Jason | 88 | 88 | 92 | 90 | 92 | 93 | 93 | 90 | 92 |
| Overall | 89 | 92 | 92 | 90 | 91 | 95 | 93 | 89 | 91 |
To view the complete scores and notes, click here.
Blind Cigar Review: Emilio | La Musa Mousa Lancero