Cigar Info
Tabacalera Falto, Inc. and its brands La Garita Cigar Co. and Falto Cigars began its operations more than twenty years ago (1995), while Luis J. Falto was studying at the George Washington University in Washington, DC. . It all started when he bought and sold cigars to many different persons, including some restaurants and other establishments. All the while, he was and still is, an avid consumer and passionate of what true cigar smokers call: "The Leaf.". During that time, Luis came to the conclusion that he had tasted so many different cigars that he could make one according to his own personal taste. With the access in Washington, DC, he visited the Embassy of the Dominican Republic and asked for a list of all major manufacturers of cigars established there. Also, with the help of some friends in the tobacco industry, he was able to arrange appointments and meetings with some of the most important manufacturers in the Mecca of Dominican cigars: Santiago de los Caballeros in the Cibao Valley of the Dominican Republic.
This cigar was reviewed blind (no bands) by a panel of at least 4 reviewers. They did not know what they were smoking beforehand. The scores are an average of all the reviewers' scores with outliers removed. All of our cigars reviewed are shipped to the panelists with Boveda packs to ensure optimal smoking experience.
After visiting a number of factories, he met with Manuel J. Inoa, the Cigar Production Coordinator for La Aurora, S.A. (makers of La Aurora and León Jimenes cigars). During that meeting, the group from La Aurora, accepted his ideas with much enthusiasm and most importantly his views of what a cigar bearing his family name should been. Luis wanted to choose the different tobacco blends for his cigars and decided that they should be made in very small quantities. Such small quantities would insure a strict quality control, of which La Aurora was already distinguished for.
Finally, he wanted to meet and know his torcedores at a personal level, the men that would be hand crafting his cigars. They accepted, and since then Falto makes all his cigars in La Aurora; the oldest cigar manufacturer in the Dominican Republic, founded in 1903. That is how the La Garita Cigar Company & Falto Cigars brands of ultra boutique premium hand made cigars began.
The production size of Falto Cigars do not surpass one hundred sixty (160) boxes for the cigars that come in boxes of twenty (20), twenty five (25), and twenty six (26), meaning only around four thousand (4000) cigars per annual production.. The cigars that come in boxes of ten (10) and the production is two hundred fifty (250) boxes; meaning two thousand five hundred (2500) cigars per annual production. It is truly an Ultra Boutique Premium Handmade Cigar brand that is produced in extremely small quantities, something unheard of in the industry. Also, all Falto Cigars come in only one vitola or size, because Luis believes that that specific size and shape is the one that best expresses and represents the essence of the blend. So, every cigar is different and unique in size and blend.
As for the name Los Procesos it translates from Spanish meaning "The Processes". The name is used to pay homage to all of the processes a tobacco leaf undergoes from seed until it's in the consumer's hand cigar – including the processes of lighting a cigar, tasting a cigar, and enjoying a cigar.
There are a couple of interesting tobaccos in this blend not seen too often because they are considered more difficult to blend with – namely Carbonell as a part of the double binder and Negrito Canca in the filler. These are not completely unknown tobaccos – Carbonell and Negrito have recently nee used in such releases as Caldwell Cigar Company's The Last Tsar and The King is Dead respectively. There also is a rare tobacco called 20/20. This is a Cuban Hybrid seed grown in the Dominican Republic by Leo Reyes.
Vital Stats:
Vitola: Churchill
Length: 7″
Ring Gauge: 50
Country of Origin: Dominican Republic
Wrapper: Ecuadorian Havana 2000 HVA
Binder: Carbonell Negrito Canca
Filler: Dominican Olor 20/20
Factory: La Aurora S.A.
Blender: Luis Falto
Number of reviewers: 4 —– Craig (WyldKnyght) Gregg (McGreggor57) Jeff (ExpendableYouth) Emmett (BMP_Emmett)
Price: $13.50
Age: 8 Months
Release Date: July 2015
Contributed by: Falto Cigars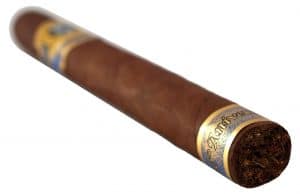 Initial Impressions
Appearance: 90
"A darker Churchill sized cigar. The wrapper is smooth and uniform, with tight wrap lines, and only a few medium sized veins running through it. The cigar had a triple cap, but it is a bit bunched at the shoulders." -Jeff (ExpendableYouth)
Aroma: 93
"The wrapper on this cigar smelled like honey, the foot had a mild tobacco aroma and the dry puff tasted like nuts, almonds I think." –Craig (WyldKnyght)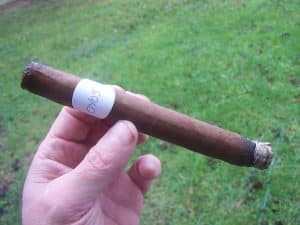 First Third
Flavor: 88
Strength: Medium-Strong
Body/Complexity: Medium-Full
"This cigar was easy to light, To start I got some spiciness and pepper. the burn was uneven for first 1″" then evened out. As I smoked this cigar I was getting more pepper and wood, maybe cedar. The smoke was light and fluffy." -Craig (WyldKnyght)
"Faint coffee, leather and tobacco make up the base of the first third. An acrid note on the finish detracts from the basic profile flavors. After going out twice, the final re-light turns this cigar around. The draw firms up and the aftertaste disappears." -Gregg (McGreggor57)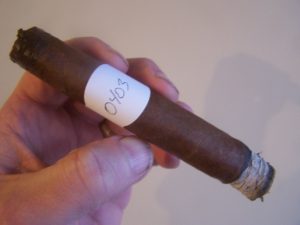 Second Third
Flavor: 90
Strength: Medium-Strong
Body/Complexity: Medium-Full
"A creamy leather with a bit of cocoa and cedar on the finish is a nice change from the start of this cigar. Near the halfway mark a little floral begins to develop in the midst of a chewy smoke. The balance of flavors is spot on." -Gregg (McGreggor57)
"This third has gotten really good. There are lots of complex flavors here like cedar, baking spices, and even some dark espresso. The draw and burn are fantastic and the flavors are classic." -Emmett (BMP_Emmett)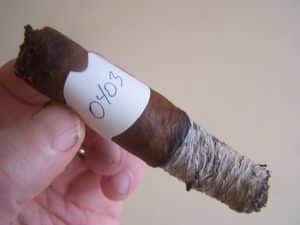 Final Third
Flavor: 87
Strength: Medium-Strong
Body/Complexity: Medium-Full
"The final third was pretty much the same as the first two, nice and mellow with some pepper and cedar flavors." -Craig (WyldKnyght)
"The flavor profile has remained pretty consistent into the final-third, and is still a consistent cedar, pepper, and mineral. It has become a bit hot but hasn't really hurt the overall flavor of the smoke." -Jeff (ExpendableYouth)
Overall Impressions
Draw: 94
"The draw improved from the first-third, and became much better from the second-third on." –Jeff (ExpendableYouth)
Burn: 94
"The burn was almost perfect never needed a touchup but was a little crooked." -Emmett (BMP_Emmett)
Construction: 88
"Aside from the tight draw in the first-third and the heating issues in the final-third the construction was pretty good." -Jeff (ExpendableYouth)
Overall Strength: Medium-Strong
Overall Body/Complexity: Medium-Full
Overall Experience: 86
"The flavor profile, although one dimensional, was quite good. I nice mix of pepper and cedar. The construction seemed good and I enjoyed the thick creamy smoke." –Craig (WyldKnyght)
"The second third flavors were well balanced and provided an amazing smoking experience. While the final third initially offered some great flavors, it soon developed a harshness that was difficult to get past. We got off on the wrong foot, however, when the wide open draw prevented the cigar from burning without constant attention in the first third. This most likely led to the acrid notes on the finish." –Gregg (McGreggor57)
"Not a bad overall cigar, just not what I really like in flavor department. I would pass on a buy and probably not give it a second go." –Jeff (ExpendableYouth)
"This was a really good cigar, especially the last two of the thirds. It ended up being a nice complex classic cigar. I would definitely buy a box of these and recommend anyone try them." –Emmett (BMP_Emmett)
Smoking Time (in minutes): 106
Reviewer

Appearance

Aroma

1/3

2/3

3/3

Draw

Burn

Constr.

Overall
Experience

Craig
WyldKnyght)
90
95
90
88
87
100
90
90
87
Gregg
McGreggor57)
90
90
85
92
87
88
85
85
87
Jeff
ExpendableYouth)
90
88
85
88
85
85
95
87
85
Emmett
BMP_Emmett)
90
92
90
92
92
100
97
95
92
To view the complete scores and notes, click here.
Blind Cigar Review: Falto | 20th Anniversary Los Procesos
Blind Cigar Review: Falto | 20th Anniversary Los Procesos