Cigar Info
Matilde Oscura is the second addition to Jose Seijas' Matilde family. The combination of Dominican, Nicaraguan and Pennsylvanian filler, held by a Sumatran binder and finished with an exquisite San Andrean wrapper is said to yield amazing notes of black and white pepper with hints of sweetness that will evolve to play a larger role as the tobaccos burn.
This cigar was reviewed blind (no bands) by a panel of at least 4 reviewers. They did not know what they were smoking beforehand. The scores are an average of all the reviewers' scores with outliers removed. All of our cigars reviewed are shipped to the panelists with Boveda packs to ensure optimal smoking experience.
Before his retirement, Jose Seijas spent 40 years behind the scenes in the cigar industry, most recently serving as vice president and general manager of Tabacalera de Garcia Ltd. In this post, he oversaw the annual production of 60 million cigars including Montecristo, Romeo y Julieta, and H. Upmann. He returned to the industry with his own boutique factory and brand, Matilde, and is dedicated to producing meticulously blended, flawlessly crafted, artisanal small batch cigars. His first release, last year Renacer, made #15 on our Top 25 list.
Vital Stats: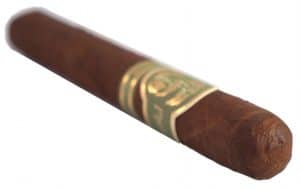 Vitola: Toro
Length: 6.5″
Ring Gauge: 54
Country of Origin: Dominican Republic
Wrapper: Mexican San Andres
Binder: Sumatra
Filler: Dominican Republic, Nicaragua and Unites States
Factory: Tabacalera La Matilde
Blender: José Seijas
Number of reviewers: 5—–Wes (SosaCub4Life) Eric (smalls29) Stefan (Stefan) Sandeep (Djangos) Steve (ThaGreatWazoo)
Price: $8.50
Age: 1 Month
Release Date: July 2015
Contributed by: Matilde Cigars
Initial Impressions
Appearance: 90
"Toro sized cigar with a dark chocolate wrapper. The surface is quite bumpy with a lot of rough veins. The caps are quite roughly placed and I can see at least two. The wrapper has no changes in color. Feels firm to the touch the entire length." –Sandeep (Djangos)
Aroma: 90
"The overall aroma profile I got was very heavy grass and oats. It was nicely balanced pre-light, and during the smoke, the grass/hay bellowed out of the smoke. Real nice attribute here." –Steve (ThaGreatWazoo)
First Third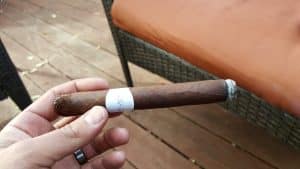 Flavor: 89
Strength: Medium
Body/Complexity: Medium
"Medium-bodied during the first third, with an undercurrent of cocoa flavors that are joined by a hint of (almost artificial) sweetness on the palate and some licorice notes on the finish. There is also a little pepper in the mix — white pepper during this third's first half, then black pepper as it gets closer to the second third." –Stefan (Stefan)
"The initial third starts off with a blast of pepper that coats my entire mouth. The pepper is strong that I cannot taste anything else for the initial half inch. After this, the pepper does mellow down some even though it is present in every puff. At this juncture, the predominant flavor coming through is leather and some tobacco. There is also a slight nutmeg like taste as well, giving it some complexity. Definitely one of the more stronger cigars I have had in a long time to get a nic kick this early. There is no issues with the burn or the draw in the initial third. The smoke is creamy and thick and the ash is somewhat flaky and very white." –Sandeep (Djangos)
Second Third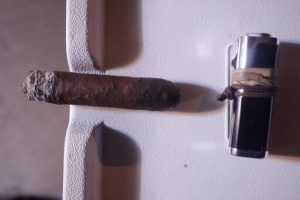 Flavor: 91
Strength: Medium
Body/Complexity: Medium-Full
"The cigar continues to burn great and hold an amazing ash. This has been a great, smooth, creamy and flavor packed cigar. It still has a nice spice to it that's mixed in nicely. The overall thick creaminess of the cigar coats the entire palate with the tip of my tongue getting a nice tingle from the spice." –Wes (SosaCub4Life)
"The nutty flavored intensified some, leaving a little stronger flavor to linger on the palate. A hint of coffee flavoring was present in the taste and aroma. Very pleased with the flavor at this point. It has maintained its integrity well." –Eric (smalls29)
Final Third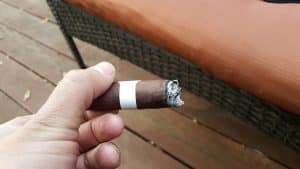 Flavor: 90
Strength: Medium
Body/Complexity: Medium-Full
"The final third starts off with hay and leather with some tobacco in the background. There is also the nutmeg/clove flavor as well which is stronger. The pepper is still present in every puff and becomes stronger as it progresses. The nicotine is definitely kicking in as we progress. The pepper increases in intensity and reaches a crescendo in the end. Overall, a good smoke and thankfully the middle and final third made up for some lack of complexity in the initial third. The burn straightened out in the final third as well." –Sandeep (Djangos)
"The final third continued strong. The profile stays true to the cocoa and coffee bean and a slight leather just peeks out of the background. The retrohale offers a little spiciness and help finish off the completeness of the cigar without overpowering the senses. Great finish all the way down to the end." –Steve (ThaGreatWazoo)
Overall Impressions
Draw: 93
"The draw was very good throughout the entire smoke." –Wes (SosaCub4Life)
Burn: 90
"The cigar burned well, not requiring a relight. It did burn unevenly for most of the time." –Eric (smalls29)
Construction: 93
"Very good construction in spite of the seemingly not very tight wrapper. It never showed signs of unraveling." –Stefan (Stefan)
Overall Strength: Medium
Overall Body/Complexity: Medium-Full
Overall Experience: 93
"Overall, I really enjoyed this cigar. It had just a great overall mix of some peppery spice while staying creamy and smooth. It was thick and smokey and just had great overall flavors throughout the entire smoke. I would love to smoke this cigar again." –Wes (SosaCub4Life)
"A very pleasant experience. I expected a bolder flavor based upon the dark color of the leaf. Overall, I would enjoy this cigar again with a good cup of coffee or even a latte, or even a good scotch." –Eric (smalls29)
"A very solid, Maduro-like cocoa-driven smoke with minimal bitterness." –Stefan (Stefan)
"Overall, the cigar made up in the last two thirds in both the flavor and complexity departments. If you are looking for a strong one with a leather and hay profile, this is the one. Will try again." –Sandeep (Djangos)
"Wow. Once i got past the slow start, the cigar really opened up. Medium to full flavor and just a tremendous profile that balanced well off of each other. Nicely done. Grab these, let some sit, and watch them grow into something truly special." –Steve (ThaGreatWazoo)
Smoking Time (in minutes): 76
Reviewer

Appearance

Aroma

1/3

2/3

3/3

Draw

Burn

Constr.

Overall
Experience

Wes
SosaCub4Life)
97
97
97
97
97
97
95
97
97
Eric
smalls29)
95
92
95
92
90
95
90
97
95
Stefan
Stefan)
90
88
88
88
88
88
90
90
88
Sandeep
Djangos)
88
90
88
90
90
93
90
90
90
Steve
ThaGreatWazoo)
88
90
88
92
92
90
90
88
93
To view the complete scores and notes, click here.
Blind Cigar Review: Matilde | Oscura Toro Bravo
Blind Cigar Review: Matilde | Oscura Toro Bravo
91
Total Score - Very Good