Cigar Info
After a two-year hiatus, Steve Saka, the former chief executive officer of Drew Estate who had a hand in creating the popular Liga Privada blend, formed his own company and returned to the cigar industry with a new cigar—the Sobremesa.
This cigar was reviewed blind (no bands) by a panel of at least 4 reviewers. They did not know what they were smoking beforehand. The scores are an average of all the reviewers' scores with outliers removed. All of our cigars reviewed are shipped to the panelists with Boveda packs to ensure optimal smoking experience.
Saka's new company is called Dunbarton Tobacco & Trust and is named after the New Hampshire town where he and his wife, Cindy, who's also a partner in the company, reside. For nearly three decades, Saka has been associated with the cigar industry in some capacity. A cigar smoker since 1984, he wrote extensively about cigars for years until 2000, when he was hired to be an executive consultant for cigar retailer and distributor JR Cigars. He worked there for four years before joining Drew Estate, where he oversaw the production of brands such as Liga Privada, Acid and Herrera Esteli. He even held equity in Drew Estate, where he rose from president to CEO, but was bought out after departing in 2013.
"I still have some genuine regrets deciding to depart, but in the end I believe I made the right choice," said Saka in a press release. "Drew Estate had become a juggernaut, and along with that success, I found myself spending too much energy focused on business-related issues and less on what I personally love: the creating and crafting of cigars."
The Sobremesa is now available in five vitolas (sizes): Corona Grande, which measures 5 1/4 inches by 44 ring gauge; Cervantes Fino, 6 1/4 by 46; Robusto Largo, 5 1/4 by 52; El Americano, 6 by 52; and Gran Imperiales, 7 by 54. Each vitola is packaged in boxes of 25.
The cigars are being rolled at the Joya de Nicaragua factory in Estelí, an operation Saka cultivated an excellent relationship with during his time at Drew Estate. However, unlike other brand owners who may simply tap a factory for a cigar that they can then market, Saka is bringing his own ingredients—tobacco, packaging, labels—to them. "Part of the deal was the ability to bring in materials," he said. Even after the sizes and factory had been decided and finalized , Sobremesa's blend took some time to finalize. Saka says he knew what the wrapper and binder would be, but he said he had been debating the filler tobaccos.
The wrapper for Sobremesa is a rosado Ecuador Habano leaf, while the binder is Matacapan from Mexico. The fillers include four tobaccos that were cultivated from Nicaragua: C-SG seco, which is a Criollo hybrid from Condega, Criollo viso from Pueblo Nuevo, and Criollo '98 viso along with a hybrid ligero from Estelí. Additionally, the final blend includes broadleaf ligero grown in Lancaster County, Pennsylvania.
In line with Saka's banking theme, the art he chose for Dunbarton Tobacco & Trust was resurrected from an old stock certificate issued by United Cigar Stores, a corporation that was under a holding company called Tobacco Products Corp., which crashed in 1929 shortly before the stock market. The image, which has the look of U.S. currency, depicts Greek gods Demeter and Hermes flanking an ovular scene of people tending a tobacco field. Additionally, the box art for Sobremesa is based on a La Lunda vista from 1917 featuring a man walking his donkey through a tobacco field, with embossed gold medalions accenting the label.
Vital Stats: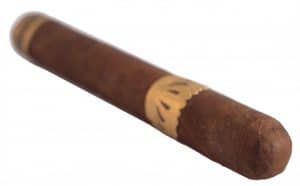 Vitola: Corona
Length: 5.25″
Ring Gauge: 44
Country of Origin: Nicaragua
Wrapper: La Meca Ecuador Habano #1 Rosado
Binder: Matacapan Negro de Temporal
Filler: Nicaragua and USA
Factory: Joya de Nicaragua S.A.
Blender: Steve Saka
Number of reviewers: 5—–Ryan (Youngryan216) Gregg (McGreggor57) Steve (ThaGreatWazoo) Emmett (BMP_Emmett) Robert (NavyPiper)
Price: $10.20
Age: 1 Month
Release Date: November 2015
Contributed by: Blind Man's Puff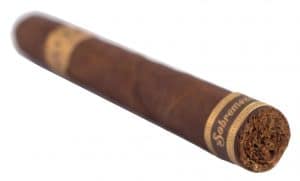 Initial Impressions
Appearance: 91
"This corona is very smooth to the touch and the wrapper is applied seamlessly. The wrapper is thick and milk chocolate brown with a slight Colorado red tint. I would guess this was made in a factory with very skilled torcedores, because the perfect draw matched the excellent exterior construction." –Ryan (Youngryan216)
Aroma: 90
"The wrapper smells a bit of barnyard and earth. Pre-light draw has some spice to it." –Emmett (BMP_Emmett)
First Third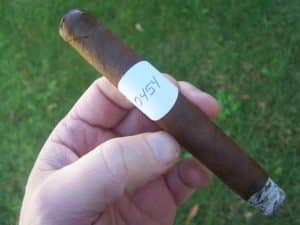 Flavor: 89
Strength: Medium
Body/Complexity: Medium-Full
"The first few puffs are woody with a hint of black pepper spice on the finish. I mainly get flavors of cedar shavings initially, however, as I near the inch mark, a slightly oily, vegetal flavor joins the core flavors. While it doesn't sound very appealing, the vegetal flavor is actually the best part of the blend, in my opinion. There is something about how well developed that flavor is compared to the other more muted flavors that makes it stick out throughout the smoke, but really shine in the first two inches." –Ryan (Youngryan216)
"Cedar, coffee and a nuttiness in the background to begin this cigar. A little leather appears as the nutty finish fades, providing a good balance of flavors. There is a pretty good pop of spice on the retrohale that looks to hang on for the entire third." –Gregg (McGreggor57)
Second Third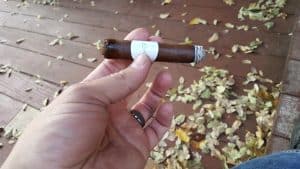 Flavor: 91
Strength: Medium
Body/Complexity: Medium
"Almost immediately, once the second third started going, the profile and complexity completely changed for the better. The char vanished and a rich leather caught hold. The leather was mixing slightly with a grass flavor that I could not pinpoint. It was a good middle to a slow start." –Steve (ThaGreatWazoo)
"In the second third, the flavors from the first are still present, but the spice has increased some. There is also a faint hint of leather as well, but definitely in the background. The charred wood/burnt toast is still dominant, but has backed off in its intensity. All in all, the flavors are working pretty good together, and have been quite enjoyable, mainly due to its uniqueness." –Robert (NavyPiper)
Final Third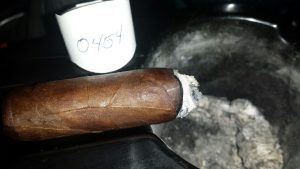 Flavor: 88
Strength: Medium-Strong
Body/Complexity: Medium-Full
"The final third of the smoke reveals some fleeting notes of coffee and the retrohale is satisfying and not overly spicy. Notes of cedar are still dominant, and the vegetal taste has still yet to go away. There is some very well executed balance in the blending here — like something you would find in an aged My Father cigar." –Ryan (Youngryan216)
"This third brings back the spices from the first, and then some. The graham cracker is still there, but a nice amount of pepper and paprika join. The cigar never gets too hot and finishes out strong. The coffee flavor is also still around, but not at the front." –Emmett (BMP_Emmett)
Overall Impressions
Draw: 96
"The draw was spot on perfect. No issues whatsoever." –Robert (NavyPiper)
Burn: 96
"Lots of smoke with a beautiful white ash that stood out against the dark wrapper." –Gregg (McGreggor57)
Construction: 92
"A nice built, well constructed cigar. The filler and wrapper were rolled together nicely and the seams were unnoticeable and held well." –Steve (ThaGreatWazoo)
Overall Strength: Medium-Strong
Overall Body/Complexity: Medium-Full
Overall Experience: 89
"There's nothing offensive about this cigar's flavor profile or construction. And, it even had a very pleasant vegetal quality that I really enjoyed. However, there is nothing mind-blowing here in my opinion.
The cedar in the beginning disappeared by the last third, along with any resemblance of complexity. The size was great, as I am partial to coronas, and I did find it to be a well balanced blend." –Ryan (Youngryan216)
"The first two thirds offered a nice balance of enjoyable, if not limited, flavors. There was a creaminess to the smoke which added to the experience. Some pepper on the nose was present for most of the cigar, allowing me the option of becoming adventurous at times. Sadly it ended with an overwhelming cedar that became harsh." –Gregg (McGreggor57)
"This one didn't knock my socks off, but it did have its glorious moments. The middle third of the cigar was quite excellent. The flavor profile that bounced off of leather and a nice grass and then turned from that grass to an oak had me intrigued. Overall, a very good stick that I believe will only get better with age." –Steve (ThaGreatWazoo)
"I really enjoyed this cigar and I think just about everyone else would. The flavors were classic, but unique enough to make it box-worthy. The transitions were subtle, but for the experienced smoker, enough to keep you engaged. The first third was the best, but I think with some rest, these will get even more tastier. Highly recommend this." –Emmett (BMP_Emmett)
"Overall, it was interesting and had some unique flavors to me. I enjoyed it, but not sure if I'd go out and buy a box right away." –Robert (NavyPiper)
Smoking Time (in minutes): 62
Reviewer

Appearance

Aroma

1/3

2/3

3/3

Draw

Burn

Constr.

Overall
Experience

Ryan
Youngryan216)
100
90
92
92
88
100
97
100
92
Gregg
McGreggor57)
90
90
88
90
85
93
93
92
88
Steve
ThaGreatWazoo)
88
90
88
92
90
93
93
90
90
Emmett
BMP_Emmett)
97
92
95
95
95
93
100
97
95
Robert
NavyPiper)
88
88
88
90
88
100
85
88
88
To view the complete scores and notes, click here.
Blind Cigar Review: Dunbarton Tobacco & Trust | Sobremesa Corona Grande
Blind Cigar Review: Dunbarton Tobacco & Trust | Sobremesa Corona Grande
91
Total Score - Very Good