The D'Crossier Golden Blend helped put D'Crossier on the map in 2009. Now the company is releasing a "Reserva" version of that cigar to honor Isaias Santana Crossier, the late father of Isaias Santana Diaz.
"I enjoyed this cigar. I am more of a full-bodied; full-flavor type of cigar smoker but this was a nice, middle of the road, medium kind of smoke." -Jeff R. (JR)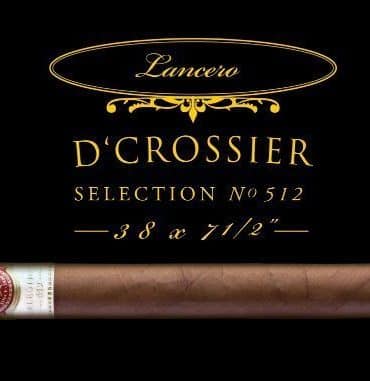 Pure Aroma Cigars announces the release of the D'Crossier Lancero as part of its Selection 512 series. As a child in Cuba, Santana-Diaz fondly remembers watching his father while he studied for his economics degree. He sat on his favorite green couch with a large text book in front of him and a cigar burning nearby. His father's cigar of choice was the lancero.
"Overall this is a pretty good cigar. Construction was fantastic to the point where I considered if it was machine rolled. Absolutely flawless. Very light weight. For a Toro cigar rolled with this precision I would expect more oily and heavier tobacco's. Not a bad thing, but lead to easier smoke output and a quicker burn. Flavors kept me guessing the whole time and we're always interesting. Quite different from the beginning of the cigar to the end in a pleasant way. Will definitely smoke this one again." -Adam B. (Bushboi)
"This cigar started very mild and while I was hoping for some change, it remained mild and pretty flavorless throughout. While the cigar's appearance, draw, and construction is very good overall, it lacked in flavor and depth. I do not think I would recommend this cigar." -David F. (David F.)
"Overall this cigar was a pepper bomb and very one dimensional. There were issues with the burn possibly because it was too dry. May benefit from time in the humidor. Will not try this as it is now." -Sandeep (Djangos)