Vital Stats:
Vitola: Toro
Length: 6″
Ring Gauge: 54
Country of Origin: Honduras
Wrapper: Pennsylvania Sun Grown Broadleaf
Binder: Costa Rica
Filler: Honduras and Nicaragua
Factory: Tabacos de Oriente S.A.
Blender: Jesus Fuego
Number of reviewers: 5 —– Paul (pmr1010) Gregg (McGreggor57) Jason H. (Jokey Smurf) Jiunn (jliu) Robert (NavyPiper)
Price: $11.00
Age: 3 Months
Release Date: July 2014
Contributed by: J. Fuego Cigars
This cigar was reviewed blind (no bands) by a panel of at least 4 reviewers. They did not know what they were smoking beforehand. The scores are an average of all the reviewers' scores with outliers removed. All of our cigars reviewed are shipped to the panelists with Boveda packs to ensure optimal smoking experience.
Initial Impressions
Appearance: 90
"This toro was mostly even colored with nice tight seams and only slight veining visible. The cap was a little rough, but only what I was going to cut off anyway so it wasn't an issue at all. Not what I would consider toothy, but not smooth either. The wrapper looked like a traditional maduro to me." –Paul (pmr1010)
Aroma: 90
"Nosing the wrapper gives way to cedar and barnyard. Nosing the foot tells cedar, black pepper and faint barnyard. Cold draw mainly tells cedar, lip and tongue tingling black pepper." –Jiunn (jliu)
First Third
Flavor: 90
Strength: Medium
Body/Complexity: Medium
"Quite a bit of smoke from this cigar upon lighting with a pretty thick consistency. The first flavors I tasted were of raisins and the sweetness of a maduro. Coffee was in the background but evened out the sweetness nicely. A lot of smoke early on made it a little hard to retrohale without burning out my nose but it was nice, just strong. Roasted nuts and a little vanilla were developing as the first third got into full swing and continued for the better part of it." –Paul (pmr1010)
"There is an earthiness to this cigar with some burnt coffee on the retrohale. Oak blends with a rich mulch that really goes well with a crisp autumn afternoon." –Gregg (McGreggor57)
Second Third
Flavor: 89
Strength: Medium
Body/Complexity: Medium
"Second third starts off same as the first third with the same delicious interplay of dark chocolate, cedar and creamy nuttiness. Towards the end of the second third, the dark chocolate ramps up and the cedar note takes a slight backdrop. A very slight increase in strength but still at medium strength (same as first third)." –Jiunn (jliu)
"Second third is pretty much identical to the first third flavors wise, and again is quite enjoyable. Near the end of the third, started to get a little bit of a 'nic kick'. Had to ream it to ease the draw which helped immensely. Ash didn't seem to look the same as the first third, more grey/black in it, and didn't maintain the appearance of the wrapper as in the first third." -Robert (NavyPiper)
Final Third
Flavor: 89
Strength: Medium
Body/Complexity: Medium
"The power became much more manageable and creamy as this toro came into its final third, though still very dry. Pleasant and enjoyable vanilla and chocolate were in the forefront of the flavor profile while wood smoke was less pronounced. At no time was this cigar bitter or harsh even as I smoked it down to the last bit. The light to medium gray colored ash held on forever and was firm without ever being flaky or fragile." –Paul (pmr1010)
"I'm still enjoying the richer flavors of coffee and oak as this third begins. There is a slight sweet nuttiness, akin to marzipan, buried in the mix. For the first time, I am picking up an occasional hit of pepper on the retro." –Gregg (McGreggor57)
Overall Impressions
Draw: 92
"The draw was just a bit firm but still produced plenty of smoke. No complaints here." –Jason H. (Jokey Smurf)
Burn: 93
"Great burning cigar. Ashes fell at a consistent one inch rate. Very tight, non-flakey ash." –Jiunn (jliu)
Construction: 93
"A cigar requiring so little effort to smoke has to be well made." –Gregg (McGreggor57)
Overall Strength: Medium
Overall Body/Complexity: Medium
Overall Experience: 89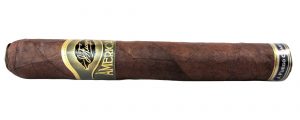 "Sometimes a great tasting cigar can be ruined by the final third if slight obstructions catch the nicotine and tar at the head, that wasn't the case here. I enjoyed this cigar from start to finish and appreciated the way it developed. A full bodied and full flavored smoke, this cigar is something I look forward to smoking again." –Paul (pmr1010)
"The middle third was the flavor star of this cigar. I just wanted to close my eyes and keep smoking. The rich flavors started strong and transitioned nicely without adding a lot of others to the blend. I would gladly smoke this again and often." –Gregg (McGreggor57)
"Other than the bit of harshness, this was a pleasant cigar to smoke. The problem for me is that the flavors were so mild that I had to try to stay focused on the cigar. There just wasn't enough of what I liked to draw me in. For a morning smoke this would be ok, or for a newer smoker. I would have really loved it if the cigar had started like it did, but then transitioned into a fuller flavored, deeper cigar. That didn't happen, so for me this is not something I would recommend to a seasoned smoker, or pursue myself." –Jason H. (Jokey Smurf)
"This was a good cigar. The interplay of dark chocolate, cedar and creamy nuttiness was superb. The cigar wasn't complex but I'm fine with that since the core flavors were so delicious. I would purchase a fiver to smoke now as overall, I enjoyed the flavors, body and strength of the cigar." –Jiunn (jliu)
"Other than the draw, this was a very good stogie- thoroughly enjoyed it! Liked the flavors, and love maduros, so I was very happy. Wouldn't mind having a few more!" –Robert (NavyPiper)
Smoking Time (in minutes): 90
Edit

| Reviewer | Appearance | Aroma | 1/3 | 2/3 | 3/3 | Draw | Burn | Constr. | Overall |
| --- | --- | --- | --- | --- | --- | --- | --- | --- | --- |
| Paul | 92 | 90 | 90 | 95 | 95 | 95 | 93 | 95 | 95 |
| Gregg | 90 | 90 | 90 | 92 | 90 | 92 | 93 | 93 | 92 |
| Jason H. | 90 | 90 | 88 | 88 | 88 | 92 | 93 | 90 | 88 |
| Jiunn | 88 | 88 | 88 | 88 | 88 | 88 | 95 | 95 | 88 |
| Robert | 90 | 88 | 90 | 90 | 90 | 83 | 90 | 90 | 90 |
To view the complete scores and notes, click here.
–
Blind Cigar Review: J. Fuego | Americana Toro
Blind Cigar Review: J. Fuego | Americana Toro
90
Total Score - Very Good