Blind Cigar Review: Los Regalos | Quetzal Toro
This cigar was reviewed blind (no bands) by a panel of at least 4 reviewers. They did not know what they were smoking beforehand. The scores are an average of all the reviewers' scores with outliers removed. All of our cigars reviewed are shipped to the panelists with Boveda packs to ensure optimal smoking experience.
Vital Stats:
Vitola: Toro
Length: 6″
Ring Gauge: 50
Country of Origin: Nicaragua
Wrapper: Ecuadorian Habano
Binder: Nicaraguan and Dominican
Filler: Nicaraguan and Dominican
Factory: Undisclosed
Blender: Gary Griffith
Number of reviewers: 5—–Milton (mjohnsoniii) Sandeep (Djangos) Gregg (McGreggor57) Craig (WyldKnyght) Brian (B-daddy)
Price: $7.90
Age: 5 Months
Release Date: 2013
Contributed by: House of Emilio
Initial Impressions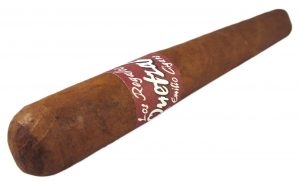 Appearance: 90
"This cigar had a nice light brown wrapper with some small veins. It was nicely finished with a triple cap." –Craig (WyldKnyght)
Aroma: 91
"The cigar has a hay and leather like aroma that is very pleasant. There is also some cocoa like flavor in the background. The dry puff surprisingly gave a molasses like sweetness. There was also a good amount of white pepper on the dry draw." –Sandeep (Djangos)
First Third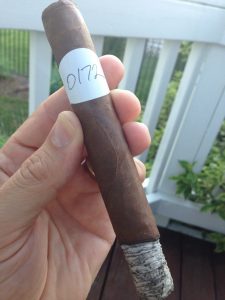 Flavor: 93
Strength: Medium
Body/Complexity: Medium
"I immediately tasted black pepper followed by sweet and spice. The sweetness was reminiscent of marzipan and was a bit too sweet at first but settled down significantly about half an inch in. It was tasty and produced tons of creamy smoke that seemed to stick to the roof of my mouth." –Milton (mjohnsoniii)
"The initial flavor I got was that of hay with some pepper that rested on the back of my tongue. It had a nice firm light grey ash with lots of thick smoke." –Craig (WyldKnyght)
Second Third
Flavor: 93
Strength: Medium
Body/Complexity: Medium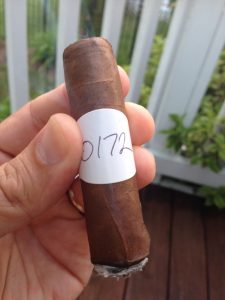 "As we enter the next third, the pepper caries on in the background at almost the same intensity. The earthy flavors have now given way to some savory spices. I think I can discern some nutmeg. The leather is becoming more prominent now. The sweeter flavors are not prominent any more. The burn and draw continue to be excellent. The smoke is thick and creamy. So far a pleasant experience." –Sandeep (Djangos)
"Pretty consistent into the second third. Still primarily leather and earth with a little creaminess and pepper on the finish. The burn has been perfect on this thing… right up to the point where the wrapper started to split (an inch before hitting the band). Flavors are still nice and rich as it enters the final third." –Brian (B-daddy)
Final Third
Flavor: 93
Strength: Medium
Body/Complexity: Medium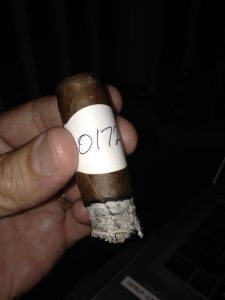 "Surprisingly, the flavors tasted earlier haven't died down at all but have added some earthy flavors to the mix. I also began tasting notes of wood at this point." –Milton (mjohnsoniii)
"More spice is showing up on the retro now, letting me know this cigar has some life left in it. The sweetness is beginning to char, producing a delicious burnt caramel flavor. A little raisin on the palate helps to smooth the taste and adds a nice finish." –Gregg (McGreggor57)
Overall Impressions
Draw: 93
"Close to perfect the entire length." –Sandeep (Djangos)
Burn: 96
"A pretty straight burn line with a somewhat flaky ash that only dropped twice. Great smoke production." –Gregg (McGreggor57)
Construction: 93
"Nice firm pack and good wrapper work. Resulted in a good burn and good draw…and good flavors. What's not to like." –Brian (B-daddy)
Overall Strength: Medium
Overall Body/Complexity: Medium
Overall Experience: 93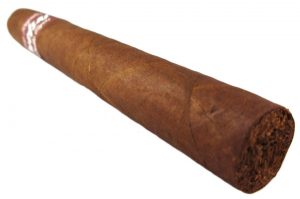 "This was a very solid smoke that I would love to try again. It offered complexity and strength that are two ingredients that makes a cigar an awesome cigar, in my opinion. The light gray ash held on well into the second third before falling. The different flavors, which were consistent throughout, transitioned very nicely from one to the other. I can see myself enjoying these in the not-so-distant future." –Milton (mjohnsoniii)
"Overall, this cigar was a pleasant experience with some degree of complexity. However, I would have liked more sweeter flavors to cut the more dry flavors. The pepper was just to my liking on this one. This is one that I will definitely give another go." –Sandeep (Djangos)
"What a pleasurable milder smoke with lots of subtle changes within it's original profile. The balance of spice and sweetness was close to perfect, never becoming harsh or bitter. Often the initial pepper blast takes over, but this cigar seemed to keep all flavors balanced and working well together. I would grab a box in a heartbeat." –Gregg (McGreggor57)
"Overall, this was a very good cigar, the pepper and cinnamon gave me a good feeling. The ash flavor I got was not great, yet it was not overpowering so not bad either. Due to the cracked wrapper at the end I didn't get the full enjoyment and hope to try it again in the future." –Craig (WyldKnyght)
"I enjoyed this cigar more than I thought I would. Certainly not the most complex cigar, but the flavors were nice and rich throughout. Performance was very good. I'd smoke this again. Probably start with a 5 pack and see where it goes from there." –Brian (B-daddy)
Smoking Time (in minutes): 72
Total Score: 93 (Excellent)
Edit

| Reviewer | Appea-rance | Aroma | 1/3 | 2/3 | 3/3 | Draw | Burn | Constr. | Overall |
| --- | --- | --- | --- | --- | --- | --- | --- | --- | --- |
| Milton | 90 | 92 | 90 | 93 | 93 | 88 | 100 | 90 | 93 |
| Sandeep | 95 | 95 | 93 | 93 | 93 | 95 | 97 | 95 | 93 |
| Gregg | 90 | 92 | 93 | 95 | 93 | 97 | 95 | 93 | 93 |
| Craig | 90 | 90 | 90 | 90 | 90 | 90 | 88 | 90 | 90 |
| Brian | 88 | 90 | 93 | 93 | 90 | 95 | 95 | 95 | 93 |
| Overall | 90 | 91 | 93 | 93 | 93 | 93 | 96 | 93 | 93 |
To view the complete scores and notes, click here.
Blind Cigar Review: Los Regalos | Quetzal Toro