Cigar Info
El Oso literally translates to "the bear." It comes to us from Warped Cigars, a brand that originally hit the scene back in 2008 before disappearing from the radar. The year 2014 marked their epic comeback, and they did it with an array of tasty handmades that prove this brand is back with a vengeance.
This cigar was reviewed blind (no bands) by a panel of at least 4 reviewers. They did not know what they were smoking beforehand. The scores are an average of all the reviewers' scores with outliers removed. All of our cigars reviewed are shipped to the panelists with Boveda packs to ensure optimal smoking experience.
This blend is a mix of Dominican and Nicaraguan filler leaves and an Ecuadorian Habano Oscuro wrapper. Extremely limited in production, they are rolled at the esteemed El Titan de Bronze factory in the historic neighborhood of little havana in miami. Rolled by true category 9 cigar rollers from havana, cuba, each el oso utilizes true Cuban technique, such as entubado bunching and the classic Cuban triple cap.
Vital Stats: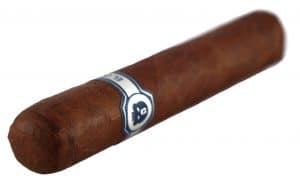 Vitola: Petite Corona
Length: 4″
Ring Gauge: 44
Country of Origin: United States
Wrapper: Ecuadorian Habano Oscuro
Binder: Ecuador
Filler: Nicaragua and Dominican Republic
Factory: El Titan de Bronze
Blender: Kyle Gellis
Number of reviewers: 5—–Jiunn (jliu) Steve (ThaGreatWazoo) Robert (NavyPiper) Jack (Jack_H) Wes (SosaCub4Life)
Price: $11.50
Age: 4 Months
Release Date: May 2014
Contributed by: CigarPlace.biz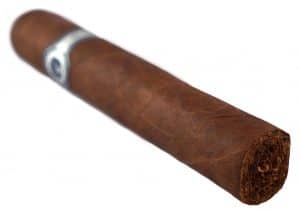 Initial Impressions
Appearance: 91
"This petite corona has a beautiful Colorado red wrapper. The wrapper has a great oily sheen that feels silky on the hands. The cigar is well rolled with no soft spots present and having tight and invisible seams. The head is finished off with a well adhered triple cap." –Jiunn (jliu)
Aroma: 90
"There was a real nice aroma coming off of this cigar. I got hints of a nice cocoa mixture coupled with an earthy backdrop." –Steve (ThaGreatWazoo)
First Third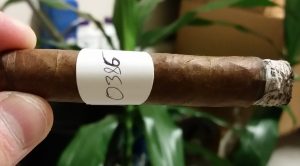 Flavor: 93
Strength: Medium-Strong
Body/Complexity: Medium-Full
"First third from the get go wastes no time giving a rich and powerful smoking experience. Medium full bodied flavors of burnt cedar, bread, roasted dried nuts and slightly sweet cream. This is well rounded by a oily and slick chili pepper that sticks to the palate long after the draw. Retrohaling is impossible for me as the sting of the chili is too overbearing. Although it's still the first third, the strength is already at a medium full." –Jiunn (jliu)
"Very nice beginning of this cigar. Instantly, I got nice hints of a dark roast coffee coupled with a very smooth chocolaty finish. The ash was very nice throughout the first third and the retrohale had just a nice crisp earthy finish. Great smoke throughout the first third." –Steve (ThaGreatWazoo)
Second Third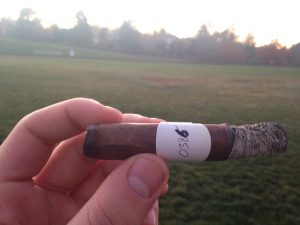 Flavor: 94
Strength: Medium-Strong
Body/Complexity: Medium-Full
"If I thought the first third was freakin' good, the second third surpassed it! Same flavors, the tobacco, white pepper and spice, but now a slight woodiness has entered the mix. The random sweetness still comes and goes. All of the flavors are perfectly balanced with none fighting for dominance. The ash lasted to about the end of this third before I tapped it off as I didn't want it dropping onto my shirt, but it could very well have lasted a little longer I'm guessing. The burn went a little screwy in this third, but a quick touch up fixed it. Man, I'm digging this stogie!" –Robert (NavyPiper)
"There is still mostly pepper spice but the cigar has also become a bit thicker and creamer. The spice is very evident on the retrohale." –Wes (SosaCub4Life)
Final Third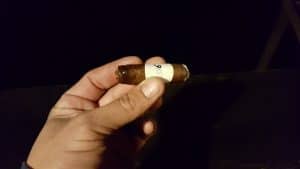 Flavor: 93
Strength: Medium-Strong
Body/Complexity: Medium-Full
"Now in the final third, which sucks cause the other two have been just amazing. The only real change in this third is that the pepper began increasing in strength, giving a real good burn through the sinuses. I retrohale a lot, and I love that burn, so I'm not griping about it. That was about it, and it was a sad moment when I couldn't hold onto it anymore because I was scorching my fingers." –Robert (NavyPiper)
"Pepper picks up and there is some citrus on the palate as well. The draw has improved as well. It is a relatively slow burner considering its size." –Jack (Jack_H)
Overall Impressions
Draw: 86
"The draw was pretty snug for me and my preferences, and had to ream it to make it doable for my tastes. Probably would be just fine for most everyone else." –Robert (NavyPiper)
Burn: 93
"The burn was excellent throughout." –Wes (SosaCub4Life)
Construction: 93
"It was clearly a well made cigar, and even though there were some minor inconsistencies as a whole, this was a rock solid smoke." –Jack (Jack_H)
Overall Strength: Medium-Strong
Overall Body/Complexity: Medium-Full
Overall Experience: 93
"Excellent cigar. Although not in my typical flavor wheelhouse, I appreciate a rich and powerful cigar. This will be great to smoke a couple of after a grilled fatty steak (like a bone in ribeye). This will probably also hold very well to whiskey, cutting some of the chili bite. I'd seek out a fiver." –Jiunn (jliu)
"This was surprising to me to be such an excellent cigar. It was a very nice quick smoke that had a good flavor profile and had me wishing it came in a bigger vitola. Besides the draw issues, I think if the vitola was a little bit bigger this would have much more flavor and impact the overall profile to offer that much more. If you're in the mood for a nice quick cigar that gives off some really good flavor hints, this would be the one for you. Grab a few and give these a shot." –Steve (ThaGreatWazoo)
"Gee, how can I put this in a simple easily understood way? I know- Gimme more, more, more, more, and more. Any questions?" –Robert (NavyPiper)
"This is a fun smoke, it is strong for a little guy, it lasts a while and it has some nice complexity. This is not a cigar I would smoke that often because of the size, but if I was trying to kill 30-45 minutes this would be an easy stick to reach for." –Jack (Jack_H)
"Overall, this is a good short smoke. It had a nice mix of starting with some peppery spice and then smoothed out into a more creamy smoke at the end. This would make for a good quick smoke on your way to work or if it's cold and you wanted a nice quick cigar." –Wes (SosaCub4Life)
Smoking Time (in minutes): 38
Reviewer

Appearance

Aroma

1/3

2/3

3/3

Draw

Burn

Constr.

Overall
Experience

Jiunn
jliu)
97
85
93
93
93
87
88
88
93
Steve
ThaGreatWazoo)
90
92
95
93
93
85
95
93
93
Robert
NavyPiper)
90
88
93
95
93
85
88
90
95
Jack
Jack_H)
92
90
93
90
90
87
97
95
90
Wes
SosaCub4Life)
92
95
93
95
93
97
97
97
93
To view the complete scores and notes, click here.
Blind Cigar Review: Warped | El Oso Cub
Blind Cigar Review: Warped | El Oso Cub
92
Total Score - Excellent