"This one ran the spectrum of boldness. It started out with a medium bold taste that grew very bold and biter and then became mild in the final third. I was happy with the consistent flavors of wood and nut throughout which helped maintain some of the enjoyment of this smoke. The second third saw some bitterness come in but it wasn't so bitter that I wanted to out it down. I was surprised by how it mellowed towards the end. Still, all in all, a very nice experience." -Eric (smalls29)
"Overall this was a decent smoke with the first half being my favorite. Rich buttery notes dominated the profile throughout and provided ample amounts of deliciousness for nearly and hour and a half. Recommended for those who enjoy mild and medium bodied sticks, this would be a good staple to add to almost any aficionados humidor. " -John A. (Bostoneo)
Cubariqueño Cigar Co. has added a new size to their Protocol Official Misconduct line:  Corona Gorda. This regular production will be shown off at the IPCPR trade show. Like the rest of the line, it will be rolled at Erik Espinosa's La Zona Factory in Estelí, Nicaragua.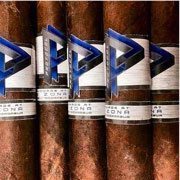 Cubariqueño Cigar Company will be attending the 2015 International Premium Cigar and Pipe Retailers Trade Show (IPCPR) this weekend in New Orleans, LA. The company, which launched its first cigar (Protocol) to market on May 16 of this year, has announced their presence at the 2015 IPCPR, booth 15824.
"This was an enjoyable cigar from start to finish. There were constant surprises in the profile from the pre-light all the way to the nub. It progressed the way I like for cigars to smoke. It started out with very pleasing flavors, and developed more, and different ones as it went along. The strength started out close to medium, and slowly progressed to finish solidly as medium full. This would pair well with bourbon or rum, and smokers with a little experience will get the most from it." -Kevin A. (Kevin A.)
Cigar Info This latest blend from Cubariqueño uses a Mexican San Andrés maduro wrapper over Nicaraguan binder and filler, and comes...
"Overall, a tasty cigar when you want something similar to a nice glass of bourbon. Mild-medium in body, this blend exemplifies tasty notes of vanilla, oak, and bourbon like sweetness. Easy to smoke from top to bottom, this is an easy recommendation for a well balanced smoke that can be enjoyed anytime without any reservations for a relaxing experience." -John A. (Bostoneo)
Cubariqueño Cigar Co. has announced that their Protocol Themis Corona Gorda will now be a regular production cigar. It will be shown off at IPCPR 2019.
Protocol has announced a new limited edition cigar called the 5 Families. This cigar is a tribute to 5 cigar clubs that support the Protocol. This will be an exclusive release through Famousn Smoke Shop. This is also the first 6x60 from the company.