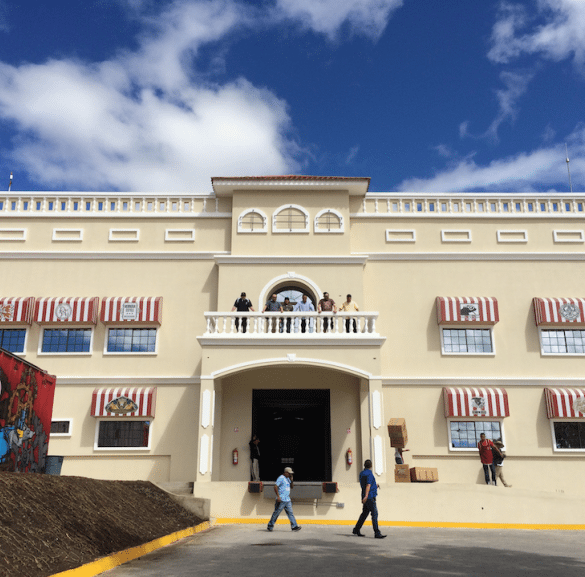 On Friday, January 17th, Drew Estate Tobacco Company held a ribbon cutting ceremony at their new leaf processing facility, dubbed "DE2". Built across the street from their La Gran Fabrica in Estelí, Nicaragua, the new facility is one of the largest, most state-of-the-art leaf processing operations in the world, specializing in dark air-cured tobaccos.
"I enjoyed the change in personality of this cigar. The beginning was a nice start with a sweet smell and flavor only to give way to a bolder, bit stronger flavoring. A peppery flavor emerged in the middle but dissipated towards the end. Overall, a pleasant experience, none like I have ever experienced." -Eric (smalls29)
"Where do I start. The flavors of cedars and spices were very enjoyable. The tingle left on the palate and tongue were very enjoyable. The smoke enticed you to want more. I thoroughly enjoyed this cigar. I would pair this with a dark beer or a red wine. I did not want it to end. For the length, I was a bit surprised at the time it took to smoke it. I thought it would have been longer. Very enjoyable and I would recommend this to my friends." –Eric (smalls29)
To be honest this cigar reminded me a lot of the All Out Kings, which is made at Drew Estate using the same Habano wrapper as T-52. It is very much like a mild version of the T-52. The final third was just a bit sour, but not a huge turnoff and I think this will improve with time. I really enjoyed this smoke and it is quite a departure from previous Liga Privada releases in its strength, yet it retains the complexity. I am curious to see how these age, definitely get a hold of some of these if you can.
"From the initial lighting, this was simply an outstanding cigar that I hated to see end. I would definitely buy a box or bundle of these as I'm sure they'll only get better over time. It reminded me of some ultra premium brands that surely deserves a place in every humidor out there. Can't wait to see which one this is." -Milton (mjohnsoniii)
"While this cigar spent a good deal of the first third trying to trying to find itself, there was plenty of time left to enjoy it. The richness of the char, coffee and nuttiness was well balanced with some sweetness from the cedar and allspice. The leather in the middle did a nice job of tying all the flavors together." -Gregg (McGreggor57)
"This larger vitola benefited from a nice change up of flavors. Although there were no stars, the subtle nuances held my interest for ninety minutes. My biggest issue was an inconsistent and loose draw that made it difficult to pull out a wider range of tastes. I would try this one again based on the flavors." –Gregg (McGreggor57)
"This cigar offered up a nice balanced mix of cedar and coffee throughout. Some cocoa, orange zest and leather kept me engaged while the bookend pepper was a nice addition. Maybe not a special occasion smoke, it's certainly one to keep on hand." -Gregg (McGreggor57)
"I really enjoyed smoking this cigar. The first 1/3 of the cigar was truly fantastic. Really great spice and pepper to begin mixed with hints of sweetness. If the flavors continued throughout the rest of the cigar, it would have ranked much higher for me. While the second and final 1/3 of the cigar was very good, I was missing a lot of the flavors that the cigar started out having. " -David F. (dfafjf)