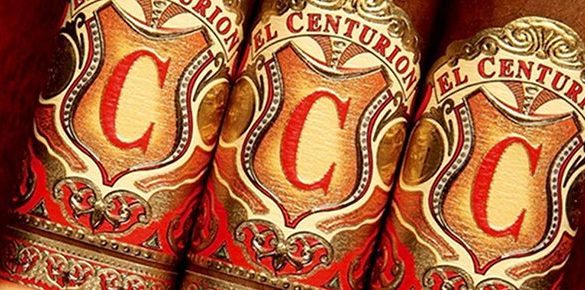 The Garcia family, owners of My Father Cigars, has acquired a hybrid wrapper grown in Connecticut and, with it, created a new brand: El Centurion H-2K-CT. Scheduled for release at the IPCPR trade show next month, this will be a spinoff of the core El Centurion line. The new cigar is named after the H-2K-CT Connecticut wrapper type, which the company said is proprietary to El Centurion. But it isn't a Connecticut wrapper in the usual sense. This isn't shade grown or broadleaf, but a Cuban-seed strain of tobacco grown in open sunlight and cultivated in the Connecticut River Valley.
"Overall a pleasant but one dimensional experience. The predominant flavor is of leather and pepper with a grassy finish. Will definitely try this again and may benefit from some time in the humidor." -Sandeep (Djangos)
"I really enjoyed this cigar and would definitely add it to my routine repertoire. I'm not a big pepper fan but the amount of pepper in this cigar was perfect. Not overpowering but well balanced with the other flavors to create a cigar that consistently kept my attention but was also relaxing and smooth. This is a great cigar for either an intermediate or experienced cigar smoker." -Diana (ArmyRN)
Imagine a car enthusiast having an opportunity to tour the Ferrari factory in Maranello, or someone who is a collector of fine watches going to visit Patek Philippe in Geneva.  The chance to actually see your favorite products being constructed by hand can be a real treat for the senses, and it can also give a heightened respect for the work that goes into creating these items that we love so much.  For premium cigar lovers the products that we consume are some of the most artfully and painstakingly crafted products in the world. Still, so many cigar lovers still don't have the first-hand experience of seeing what goes into growing fine tobacco and crafting great cigars.  During Puro Sabor 2018 I was able to visit a number of cigar factories, large and small.  In this second article of the series about the festival I will take you through these factories in the same order that I visited them.
Vital Stats: Vitola: Toro Length: 6″  Ring Gauge: 52  Country of Origin: Nicaragua ...
"This cigar was a nice mix of a dark wrapper with nice smooth subtle flavors that aren't always typical of a cigar with this dark and oily of an exterior. I enjoyed the quick transitions and the way this cigar changed completely from the beginning to the end. It was a small cigar and a bit of a quick burner, but something I can see as 5 pack worthy." -Jack (Jack_H)
Cigar Info The Don Pepin Garcia JJ Maduro was one of the first releases that really put Jose "Don Pepin" Garcia...
"As ugly as this cigar was, it goes to show that you can't judge a book by the cover. The flavors were so good. There was complexity, and yet consistent notes that pulled everything together. I would gladly reach for this cigar again. " -Matthew T. (A Huge Nerd)
In 2014, Crowned Heads introduced Las Calaveras, a branding scenario meant to pay tribute to loved ones who passed away in a previous year.  Las Calaveras was a great success right away, and has been a release that is anticipated each year by fans of Crowned Heads.  Now, Crowned Heads have announced Las Calaveras EL 2018.  This marks the fifth iteration of the annual release.