"This cigar fits perfectly into the casual smoke category for me. Something that I would enjoy either at a crowded event or when I am relaxing with a book or a movie. Somewhere that I wouldn't want a complex and deep cigar that is begging for my attention. It was the kind of cigar where you probably aren't going to run out and tell your buddies about it, but you are quite content to be smoking it." -David (Cigar Memoir)
"Overall, a very enjoyable cigar with flavors changing from hay to leather and cedar and back. The pepper is present in every puff and lends a great complexity. Will definitely try again." -Sandeep (Djangos)
"This is a very enjoyable cigar, especially the first third. If time will turn the second and final thirds to be more like the first, this would be a world-class cigar. Even still, it was really good. I would definitely buy at least 5 of these. I would recommend this to anyone but a novice." -Emmett (BMP_Emmett)
"I enjoyed the flavors of this stick, however the lack of complexity and changes made for a monotone experience. Go ahead and give it a try... it is good, but I would like something more arousing. " -John A. (John A.)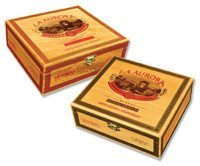 Cigar News: Aurora Celebrates 110 Years with Two Blends G. Clay Whittaker Posted: August 13, 2013 Source: CigarAficionado.com Aurora is...
"It was a good stogie, but it seemed like it didn't know where to go flavor wise at times, as it would surprise me with a new flavor, but yanked it back about as fast as it arrived, which was rather frustrating. But the basic flavors just weren't all that enjoyable for me tonight, don't know why it just wasn't." -Robert (NavyPiper)
"Overall, I enjoyed this cigar. It had a real good mix of being creamy with a hint of sweetness at the end of the first third, going into the second third. It had a nice amount of overall spice throughout also. The spice did seem to pick up some right towards the end. Good smoke. I would definitely smoke it again." -Wes (SosaCub4Life)
"Ok...I like lonsdale and Lancero cigars but this was a very good cigar. It had depth of flavor and was very interesting. Construction was excellent, and the performance was really exemplary. I will gladly recommend this to anyone who is ready to move from mild to medium. Now to find out what it is so I can buy a box!" -Jason H. (Jokey Smurf)
CAO have announced a new limited edition release that will be a part of the brand's virtual tour of the Pan American Highway. The new limited release is called Zócalo, also the name of a city square in Mexico, this is first CAO cigar made with tobacco from Mexico.